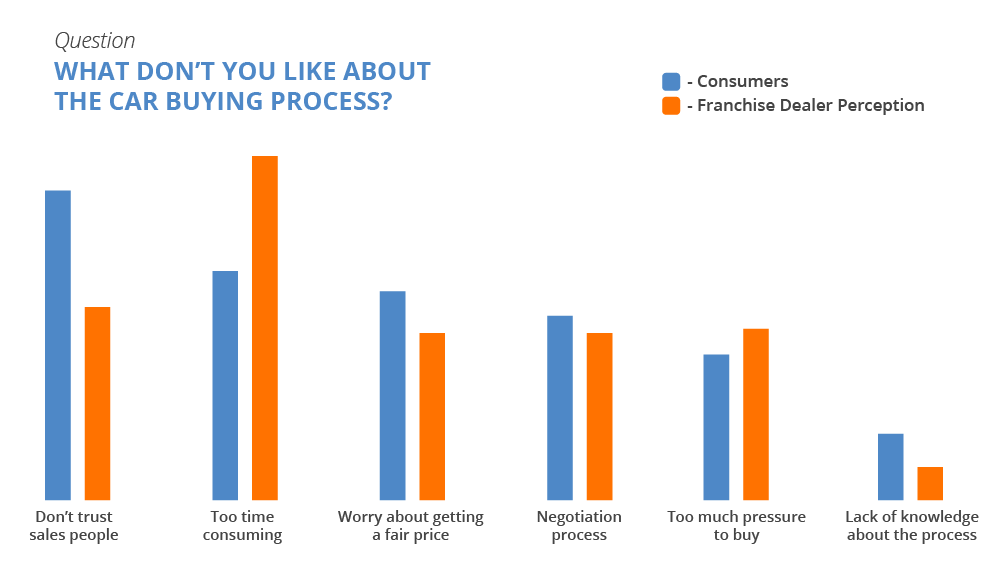 The  "not-so" Modern-Day Car Buying Process
The car buying process twenty years ago and the one today are worlds apart, thanks to disruptive technology and the power of the internet. Despite dealers constantly fine-tuning their process to correlate with ever-growing consumer expectation, Consumer attitude toward car buying has changed very little in the past few decades. Customer centricity – a modern day concept of focusing business around customers and their outcomes is making its way into used car sales at a glacial pace
Why Is the Car Buying Process Flawed?
Without a shadow of a doubt, the biggest issue is the lack of trust between consumers and the dealer, with 29% of consumers stating trust is missing. Plenty of salespeople opt for pushy techniques and refrain from being fully transparent in an overzealous bid to seal a deal.
Second on the list is the process being too time-consuming, partly due to the sheer amount of paperwork. You see, 19% of consumers believe it takes far too long to buy a car considering most people have very little spare time nowadays.
Other factors include:
Unfair prices

Lengthy negotiations

Pressure to buy and pressure in general

Limited knowledge about what to expect.
During the Purchase
To put it bluntly, consumers expect both an excellent experience and the exact car they were looking for. However, too many dealers place emphasis on just one, which instantly diminishes the overall satisfaction.
Now, a big part of a purchase is the opportunity to use your old vehicle in the negotiations, but 75% of consumers believe they do not get fair value. So, it's no surprise that only 41% of all deals include a trade, which suggests the general consensus among customers is that it's not worth it.
When it comes to financing a car, 52% of consumers prefer sourcing it from an outside lender, mainly due to their loyalty to their bank and better rates. But, other influences include the mistrust like mentioned earlier and credit issues.
"Never pay the sticker price"! Negotiating is inevitable in the business world, especially when trying to find a deal both parties are happy with. But, most consumers don't enjoy negotiating; they're forced to simply because only 12% trust the "best price" they're first given.
After the Purchase
Retaining loyal customers is a crucial component of a healthy business, but car dealers tend to struggle with the post-purchase experience.
Numbers-wise, a large 65% of consumers state that they do not go to dealerships to have their car serviced, with 67% of those that do choose an alternative dealership to the one they purchase the car from. Some of this can be attributed to proximity – a person will drive up to 200 miles to buy a vehicle but only 20 miles to service it.
The majority of consumers that use dealerships are in the 55+ age demographic with 45%. Maybe it's because dealers don't stress the perks enough, such as free Wi-Fi, which are things that the younger demographics care about more.
All in all, the two main reasons why consumers opt against dealerships are price and convenience. A big portion of consumers feels that it's both easier and cheaper to their car serviced at a local automotive repair shop.
Others include:
Time it takes to get their car back

Transparency

Level of customer service
Industry Overlook
Problems that dealers face behind the scenes in the industry usually translate into negative aspects of the front-end customer experience. Here are some reasons why the automotive industry as a whole may be causing dealerships to falter:
Cars are taking longer to move off the lot with "days to turn" increasing to 4

Gross on the front-end decreasing while back-end increasing

Loan to value increased by 2%

Total car sales decreased by 8%
The modern-day automotive consumer is an evasive breed, which makes capturing and retaining them as loyal customers vital. Ultimately, consumer perception of dealerships producing untrustworthy salespeople hasn't altered over the years, but technology and research mean dealers are empowered to improve their process and remove the destructive stigma.
For more info look through our infographic based on Consumer Research published by Dealer Socket:

How are Dealers Using AI to Improve Relationships with Buyers?
Driveroo Inspection Brings True Car Price Transparency