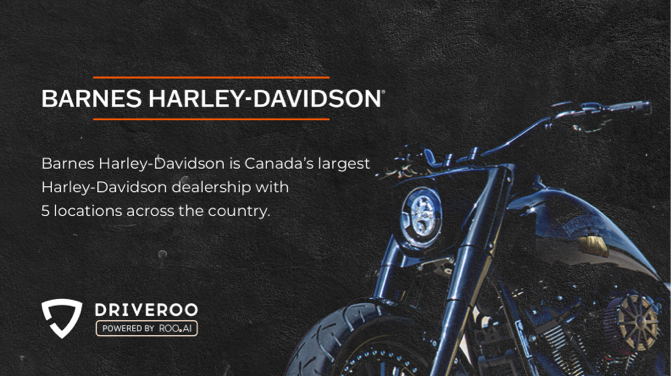 Barnes Harley-Davidson Case Study
Barnes Harley-Davidson is Canada's largest Harley-Davidson dealership with 5 locations across the country. They set the mark for sales of both new and used motorcycles across the country. And that success is no accident. From top to bottom, Barnes Harley-Davidson is using data and digitalization to drive sales growth and streamline operations.
Barnes Harley-Davidson is a 100% data-driven company. They have digitalized every part of their business. There are no paper processes left in the company. Vehicle dealerships are somewhat dated as an industry, but Barnes Harley-Davidson decided to put modern data-driven processes at the core of every decision. This has led them to eschew most traditional outreach to customers, like newspaper ads and sales events, and drive more and deeper engagement with customers through the internet. That approach is working for both customers and the company.
The Issues:
How to ensure consistency across locations?
Driving sales of used motorcycles across all of Canada is challenging. In some stores, over 80% of the business comes from customers that live a significant distance away. It's a challenge to connect with customers and to create the level of confidence they need to come into the stores.
Providing full transparency on the vehicles was one of the keys that they felt would drive success. Kiran Rancourt, Head of Marketing, shared that they tested their theory by developing an in-house system to capture this vehicle condition information. While it proved that the approach worked for increasing sales, the in-house system was cumbersome, sometimes inconsistent, and forced too much transfer of data from one system to another. And the web interface was a downloadable PDF which was not very user-friendly for customers.
True to Barnes Harley-Davidson culture, it was time to take their test to the next level. Kiran wanted to ensure that vehicle condition was reported consistently – regardless of location or service advisor. The new system had to be easy, and guide the service advisors through a standardized process, including video recordings and pictures from specific angles. And it needed to be automated so that no additional manual steps were necessary to move data to the company website.
The Solution:
Now, every used motorcycle goes through a rigorous quality inspection documented through the Driveroo mobile App. Service advisors are guided through the process, including the capture of a complete set of pictures and videos. Consistency is ensured across locations through the Driveroo Platform by enforcing a specified set of inspection items with the ability to capture the next level of detail regarding any issues. In addition, the Driveroo platform transforms the captured inspection detail into a calculated condition rating that is consistently applied across all locations. In the past, this rating could vary quite a bit between stores and inspectors.
The entire process is now a streamlined digital workflow. New inventory to be inspected is automatically loaded daily into the Driveroo App for Service Advisors to access. Completed inspections with videos and images are immediately available online and go through an approval process in marketing before they are automatically uploaded to the website.
The Benefits
More consistent ratings and a better customer experience
Driveroo simplifies the inspection process and saves on inspection time by enabling the service advisors to quickly do inspections on their mobile devices, instead of juggling paper and clipboards in the service area. Based on the motorcycle to be inspected, the standardized inspection process for that motorcycle type is presented to the service advisor ensuring the correct information is captured in the inspections.
Driveroo improved the consistency of condition reports by guiding service advisors through the process including what pictures and videos to take and from which perspectives. With Driveroo, operator guidance can be inserted at any point in the process. Regardless of operator skill levels or experience, this in-App guidance ensures consistent and high-quality information can be presented to customers – which leads to better sales engagement.
Driveroo also reduced the time and effort of moving condition reporting information to the website, taking the entire process to the next level of automation. In addition, the flexibility of Driveroo's data capture allowed Barnes Harley-Davidson to provide a better, more interactive web experience for its customers to further improve customer engagement.
"Transparency is critical to our business and to our customers, said Kiran Rancourt, Head of Marketing. Driveroo not only enables that transparency with consistent, high-quality vehicle information, but it also makes the entire process easier and faster."
Why Driveroo?
Ease of use and simplicity were key selection criteria for Kiran and his team, which made Driveroo's visual inspection interface a winner for Barnes Harley-Davidson. With Driveroo, they felt they could ensure fast adoption of the new system and high compliance while continuing to reduce inspection time.
They also liked Driveroo's ability to configure the workflow to their exact inspection processes. And the ability to drill down on issues with next-level details enabled them to calculate a very consistent assessment of vehicle condition across all their locations. Relying on the Driveroo Concierge to quickly customize their inspections and process was a big advantage as well. With Driveroo, Kiran felt Barnes Harley-Davidson was getting significantly better functionality and flexibility at a very competitive price to other solutions. Driveroo was a good value.
Finally, Barnes Harley-Davidson was impressed with Driveroo's ability to integrate with other systems – capturing the asset information from their inventory systems and providing condition reports, images and videos back to their website – which empowered the team to continue to streamline operations as they drove sales growth.
Digital Fleet Inspections