Keep


your Team Operating at Peak Efficiency

Empower operators with easy, on the spot digital assistance that delivers results
Actionable Visibility
Automatically trigger notifications for your operators and receive alerts on vehicle conditions, inspection faults and work order statuses
Streamlined Execution
Create, assign and track task execution online. Easily automate all your  daily work processes from a single platform
Faster Response Time
Ensure there are no delays in repairs or maintenance by generating and assigning work orders digitally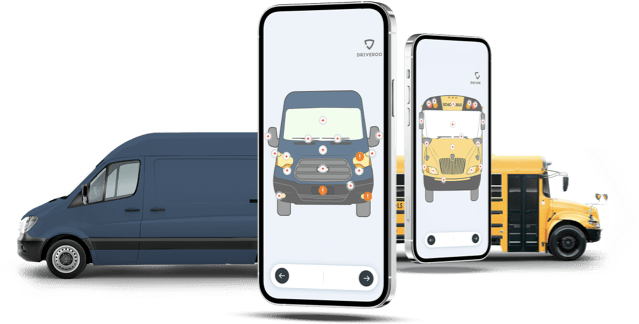 Power of Mobile + Visual
Loved by operators for its ease of use and unique visual interface, Driveroo mobile app streamlines inspections, improves accuracy and compliance. Leverage the power of mobile + visual to get work done efficiently and on time.
Notification, Alerts and Reminders
Forget paper. Use data to automatically trigger alerts and notifications to remind operators to complete inspections and important tasks. Know immediately when issues happen, respond just as fast and avoid downtime
Digital Tasks
Deploy Driveroo's flexible task management to create, assign and schedule tasks across teams or locations. Instantly collaborate to provide feedback and ensure no delay in execution
Digital Work Orders
Generate and delegate digital work orders seamlessly adding reported vehicle issues, scheduled service tasks, and detailed line items. Quickly approve maintenance online and track work-order completion data, repair costs, service duration and more
Integrate 3rd Party Repair
Provide your 3rd party repair providers with easy, online access to detailed issue data. Request and approve estimates, or leverage auto-approval thresholds to speed up response
Why Driveroo
Loved
by Operators
Operators see exactly what to do when they need to do it. That translates to more accountability and consistent issue reporting.
Complete
Solution
Automate the entire process from spotting and tracking issues, to authorizing repairs with internal maintenance or 3rd party repair services.
Concierge
Service
Driveroo's white-glove concierge will customize your process to match your exact equipment and environment. You focus on the business while we handle the rest.
Customers Say
Driveroo - an agile solution for driving safety into your culture. They dedicate resources to cater to what you need in the Driveroo platform. They remove waste and add what you need to the platform.
At my company, our mission is to continue to provide the absolute best in remembrance services. To do so, it's critical that we maintain a quality fleet, prior to Driveroo we could only be reactive, now we have the transparency required to maintain our Fleets in their best possible condition.
Every time my business grew the overhead of maintaining my fleet went up exponentially. I would not have been able to double my business this year without implementing Driveroo.