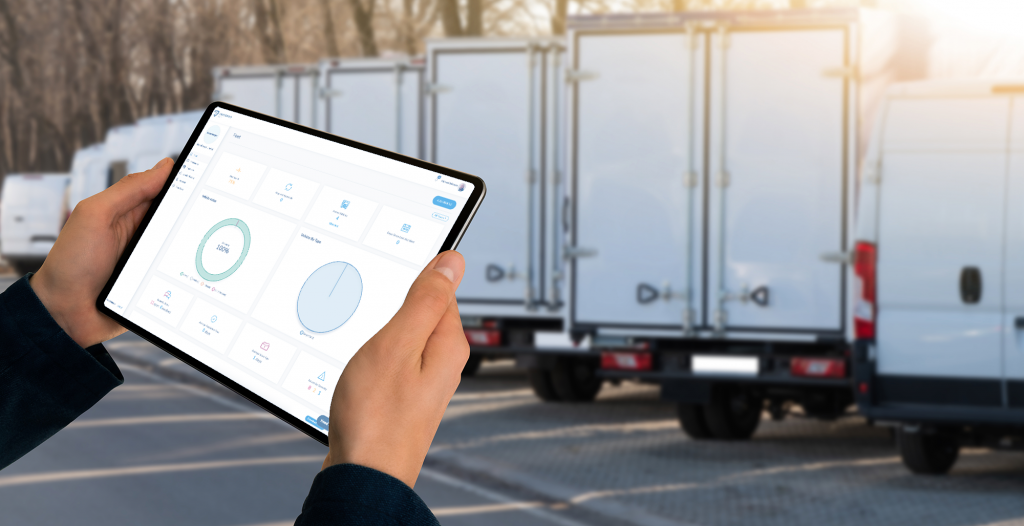 Improve Efficiency by Tracking These Fleet Management Metrics
Every day, fleet managers are tasked with making the best decisions to improve the efficiency and performance of their fleet operations. To make tough decisions with confidence and certainty, they need access to reliable data, which is where fleet management metrics provided by a fleet management software solution like Driveroo come in.
But which fleet management metrics are essential for optimizing fleet efficiency and are thus worth tracking? In this article, we have gathered top fleet management metrics spanning multiple categories that all fleet managers need to keep an eye on.
Maintenance Metrics
Inspection Results
The goal of every fleet manager is to have a healthy fleet of vehicles, and inspection results are one of the best indicators of fleet health. Poor inspection results suggest lacking preventive maintenance practices, but they may also reveal poor driving habits or issues with the reliability of a specific model of a vehicle.
Preventive Maintenance Practices
It's one thing to understand the importance of preventive maintenance practices, and it's something else entirely to carry them out on a regular basis, day after day. By monitoring preventative maintenance compliance, fleet managers can ensure that all maintenance practices are adhered to exactly how they should be.
Repair Turnover
The last thing any fleet manager wants is to have a large number of vehicles just sitting around, waiting to be repaired. By tracking repair turnover, it's possible to monitor the productivity of the maintenance team and see exactly when each repair started and ended.
Odometer Readings
Preventive maintenance practices are typically based on mileage, so it goes without saying that tracking odometer readings is essential. Since manual odometer tracking can be time-consuming and prone to errors, it's a good idea to use a telematics device to fully automate the tracking process and bring extra visibility into your fleet.
Cost Metrics
Fuel Management
The cost of fuel is guaranteed to eat up a substantial chunk of any business that depends on a fleet of vehicles. By tracking fuel management metrics such as miles per gallon or unauthorized mileage, fleet managers can improve fuel economy and efficiency and, as a result, save the business a lot of money.
Total Cost of Ownership
For a variety of different reasons, some vehicles are far more expensive to own than others, which is why your fleet's true total cost of ownership (TCO) is one of the most important fleet management metrics. With the right fleet management software, it's possible to painlessly calculate TCO from gathered data.
Asset Utilization
Owning a large fleet of vehicles but failing to utilize it to its full potential is not only inefficient, but it can also significantly impact the company's bottom line. Fleet managers who are new to tracking asset utilization can start by monitoring for how long assets have been inactive and continue from there.
Vehicle Replacement
Most fleet managers don't look forward to replacing existing vehicles because they're often not sure if the right time for vehicle replacement has already come or if the vehicle should remain in use a little longer. By analyzing the above-described fleet management metrics, it's possible to make the right decision at the right time.
Driver and Asset Metrics
Geofencing
Geofencing allows fleet managers to define virtual areas to monitor the location of drivers in real-time. When drivers venture beyond these areas, fleet managers automatically receive an alert from their fleet management software, which prompts them to investigate the incident in order to prevent unsafe driver behavior.
Driver Assignments
It's always useful to know exactly which vehicles are assigned to which drivers and have this information available in the form of comprehensive reports that show durations, mileages, and utilization per driver. When drivers know that each minute they spend driving a certain vehicle is logged, they tend to drive more responsibly.
Technician Productivity
Not all technicians are equally productive, but fleet managers often don't know who the least productive technicians are, which prevents them from identifying ways in which their productivity could be improved. To track technician productivity, it's recommended to monitor metrics such as average job completion time and time on site.
Performance Metrics
All the above-mentioned fleet management metrics can be compiled to measure the overall performance of a fleet. A modern fleet management software solution makes it possible for fleet managers to study performance metrics in real-time, and it also enables them to go back in time and look at historical data. 
In a COVID-19 World, a Pre-Trip Inspection Is No Longer Optional
Digitizing Amazon DSP Fleet Management: Why Long-Term Success Requires Long-Term Mentality