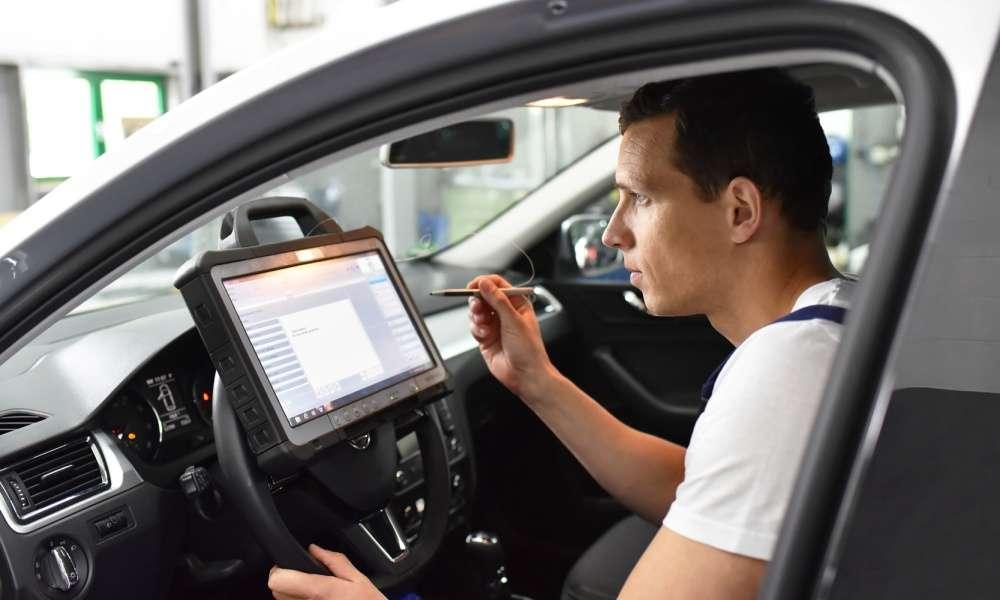 Avoid Fines and Vehicle Downtime
Driveroo Maintains Compliance While Driving Greater Efficiency

Let's face it: Fleet management is complicated. In the increasingly on-demand world in which we live, time equals money. Even the slightest delay on the road or in the garage can create a serious competitive disadvantage.

With rapidly escalating demands for delivery and transportation services, most fleet managers have their hands full just making sure the vehicles and drivers can get to where they need to be, when they need to be there.

But for drivers of commercial or passenger-carrying vehicles, the workday doesn't stop when the vehicle reaches its destination. Drivers are required to complete a Driver Vehicle Inspection Report (DVIR) on a daily basis for any commercial vehicle they operate, as mandated by US Federal regulations 396.11 and 396.13. Failure to do so can result in fines costing thousands of dollars (for the most current compliance regulations from the FMCSA, visit https://www.fmcsa.dot.gov/regulations.)

According to 2010 data from the North American Transportation Association, fleet companies that don't require drivers to fill out DVIRs had an average fine of $3,866, and could pay as much as $9,960 for a single fine.

The FMCSA raised its fines in April of 2017, making DVIRs a financial liability for fleet managers. What's worse, failure to submit DVIRS can result in safety hazards and unexpected maintenance issues, taking vehicles off the road for hours or even days.
Driveroo to the rescue

Vehicle reporting doesn't have to be an expensive, time-consuming chore anymore. Driveroo's Fleet Management Solutions are available to help fleet managers improve efficiency while staying compliant with federal law.

Driveroo delivers full FMCSA Compliance to make sure all vehicles pass criteria. Virtual fleets can deploy services that allow drivers to clock in and out while confirming compliance with labor laws and regulations. eDVIR inspections are stored in the cloud to audit and archive the condition of each vehicle.

Driveroo fleet maintenance software harnesses the power of the cloud to make eDVIRs easier, more accurate and more efficient. Powered by Driveroo's proprietary TurbographicTM Technology, the platform immediately identifies if an inspection reveals a needed repair and notifies the fleet manager so that it can be addressed. Driveroo enables in-depth vehicle inspections directly from any smartphone, turning images into quick and easy inspection points that go beyond language barriers. Complete inspections can be made in under 45 minutes. Compliance chores are minimized and training costs are reduced.

Driveroo Fleet is 100% digital, accessing and reviewing all inspections and accident reports from a web dashboard to monitor the condition of the fleet. If a repair is needed, it enables the fleet manager to conduct in-house repairs, choose a preferred shop, or connect with a certified repair facility instantly. Individual repairs can be approved based on priority to decrease downtime and costs.

Driveroo's automated fleet solutions utilize AI technology to centralize data and offer a real-time capture of every vehicle in your fleet. This ultimately increases uptime, ensures compliance, and minimizes overhead.

The Driveroo Digital Automotive Network Optimizes Fleet Operations
Driveroo goes beyond traditional fleet management software to cater to fleets of all sizes by delivering professional business solutions at a reasonable price. Whether you are looking for help with vehicle maintenance, GPS tracking, or intuitive graphics, Driveroo can help you to reduce costs, decrease downtime, and accelerate your growth.

The intelligent Driveroo digital automotive fleet maintenance network helps to ensure that fleets have all the resources they need to operate efficiently. It provides access to a nationwide network of BAR licensed shops to quickly solve any discovered repair issues, minimizing vehicle downtime and increased fleet/ carrier efficiency.

Driveroo solves fleet management challenges and keeps fleets operating at maximum efficiency. Are you ready to optimize operations so that your fleet can scale? Sign up for a demo today

Beat the Auto Shop Rush Hour
5 Reporting Tips for Fleet Drivers and Managers