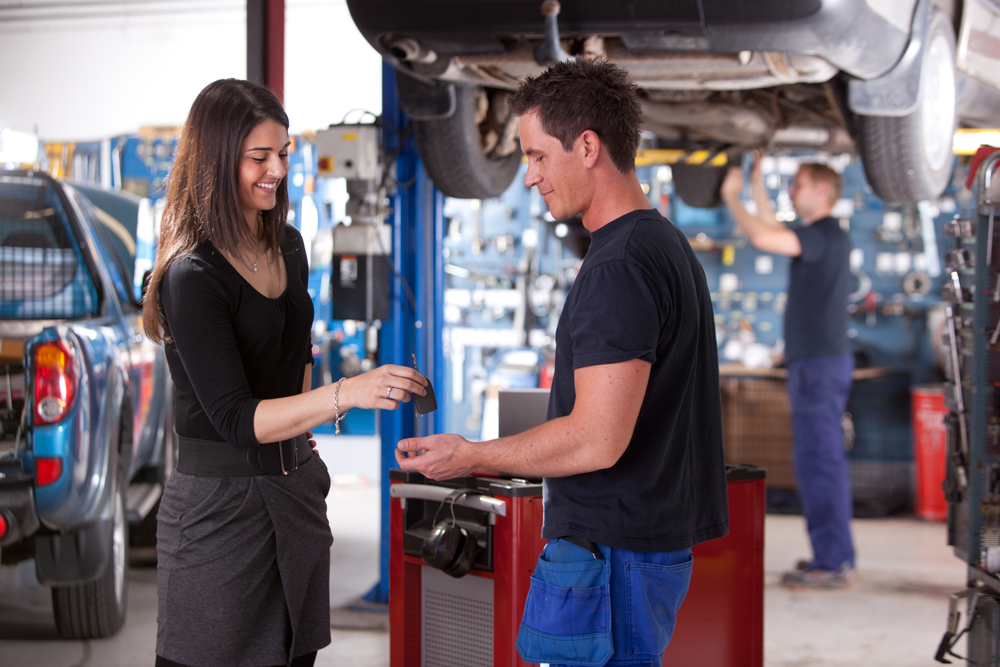 Driving Customer Retention and Loyalty in the Automotive Repair Industry
"Merely satisfying customers will not be enough to earn their loyalty. Instead, they must experience exceptional service worthy of their repeat business and referrals."


Rick Tate, Customer Loyalty Expert

Customer retention and loyalty are crucial considerations for any auto service and repair business. Although loyalty and retention are very closely related, they do have distinct differences. Understanding the components of each, and how they can work together, will result in more repeat customers and more new customers referred by happy existing customers year after year.

Let's explore both customer retention and customer loyalty and the different ways they can impact your business.
Customer Retention
Customer retention is the ability to keep the same customers coming back to your shop for auto service and repair, time after time. A trusted customer relationship is at the core of customer retention. Repeat business often stems from a sense of trust that has been established between the shop and the customer, when the customer feels they have received a fair and honest service for the cost, and when they feel that the shop has communicated clearly and openly with them throughout the process.

The auto service and repair industry has historically experienced a low level of trust, often due to lack of customer visibility in the repair process and any previous negative experiences the customer may have had. Lack of transparency and trust drives customers to look to competitors for service and repair needs. As much as 33 percent of Americans say they'll consider switching companies after just a single instance of poor service. Retaining customers is less challenging and more cost-effective than trying to gain new customers, and it can really pay off. Repeat customers are willing on average to spend more per repair order, purchase more often and are more likely to refer friends and family. Just a 5% increase in customer retention can increase company revenue by 25-95%.
Customer Loyalty
As explained by Shiv Singh, Strategic Advisor to Fortune 500 Companies and Early-Stage Startups, "The purpose of a business is to create a customer who creates customers". We've identified customer retention as the ability to keep customers coming back again and again. Customer loyalty is the result of the relationship established between the business and the customer. With 90% of American customers sharing their customer service experiences with others, a positive experience can go a long way. When a customer has a positive experience, often repeated over time as a retained customer, that customer is more likely to recommend that service to others. As new customers have positive experiences, they will also come back and advocate for your business. And when those customers prefer your service over others and recommend it, you start to reap the exponential benefits of customer loyalty.
Using DVI to Build Trust

With Digital Vehicle Inspection (DVI) apps, auto service and repair shops have the opportunity to gain and maintain a high level of customer trust resulting in strong loyalty and retention. The Driveroo Inspector app provides a new level of trust-establishing transparency in the customer communications around the inspection, service and repair process. 

Key features of the Driveroo Inspector app:
VIN Scanning and decoding
The ability to capture unlimited clear photo images, videos, and notes of the areas in need of service for easy service transparency and approvals
Voice-to-text note-taking for less typing
Single click sending of texts or emails to the customer to speed up approvals
Customers can call, email, or text the shop from within the report for all repair approvals
No app is required for the customer to use and reports are easily printable
Being able to seamlessly communicate with customers directly through the application drives quicker and smoother repair estimates, approvals and transactions. Happy customers become retained customers which in turn supports customer loyalty.

Providing customers with a positive experience starts with establishing trust. Trust is gained through transparency. Transparency is delivered through a customer-centric app such as Driveroo Inspector. As customers have better experiences, they will refer their connections, supporting business growth for years to come.

John Poulet, Service Manager at Menlo Park Chevron explains, "We've been able to get more cars in and upsell more jobs because of Driveroo Inspector. We get a lot of repeat customers who enjoy the transparent experience."

Driveroo is a fully loaded DVI solution at a cost-effective price point. Try the Driveroo Inspector mobile application with Turbographics TechnologyTM for free today!

How to Grow Your Auto Repair Business
Beat the Auto Shop Rush Hour