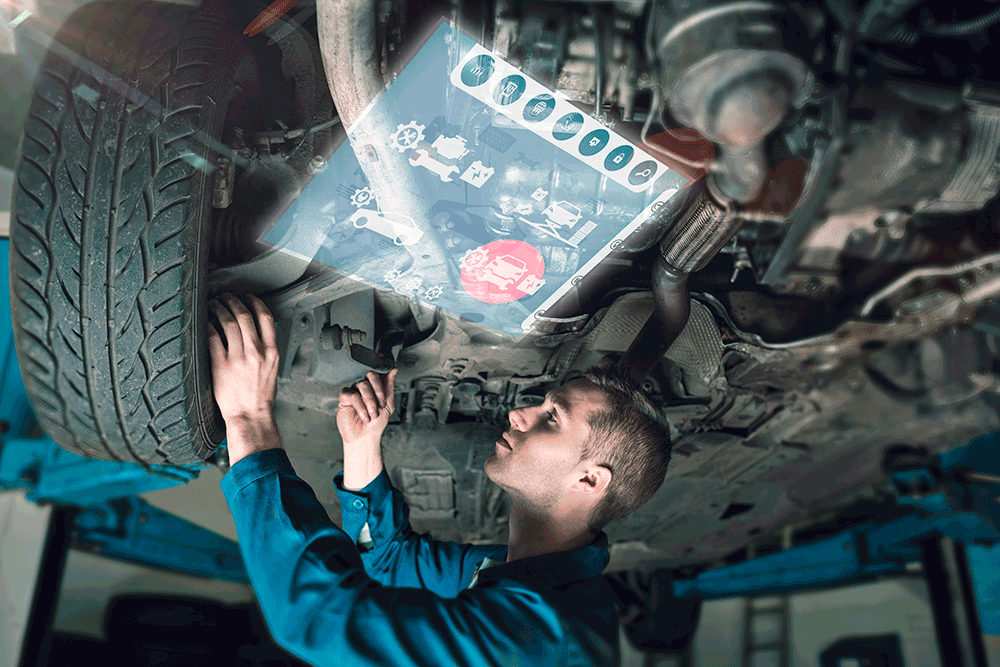 Which Technology Trends in Automotive Repair Shop Workflow are Affordable for Any Shop?
The technology trends in automotive repair shop workflow are helping car owners and those employed by the automotive industry to solve management problems. On all levels, technology is being used to improve the buying, repair, resale, and diagnostic processes. The digital trends in automotive industry workforces have introduced robots and applications that work seamlessly with employees.

How the Industry Has Changed
Automobiles are no longer made of the same simple and universal parts. Nowadays, service involves years of study and special computer tools to even make basic repairs. The digital trends in automotive industry repair shops are what separate the successful shops from those that struggle.

Few buyers have the patience to shop at car dealerships or to schedule maintenance when it is due. More than ever, transparency is sought by drivers to be sure that they paid a fair price.

Why We Need Mobile Platforms
Car buyers and owners who need repairs want everything automated or as easy as possible. Mobile platforms allow shops to contact customers with photos and detailed information that streamlines the repair process.

Mobile platforms also help mechanics find the information they need without having to page through paper forms. And, when used correctly, they allow automotive repair shops to increase productivity by helping them manage every detail of their business better.

Increase Productivity
On both sides of the automotive industry, time is too valuable to waste. Mobile technology now plays a key role in every level of the retail industry. Mobile platforms provide instant access to any relevant information and keep it organized for records. Mechanics can now complete a repair or service by letting computers take care of all the difficult parts.

Customer Expectations and Competition
Customers have always sought the one-stop-shop solutions that ease their worries and solve all their problems. Technology has created the trend of having what you want instantly in everything from purchasing a new car to having it repaired.

It is only possible to meet this goal by using mobile technology to communicate with customers and applications to manage the workflow. Car dealerships and repair shops that offer customers convenience will always stand above the competition.

Tools to Improve Workflow
There are many tools available to improve workflow. Driveroo Inspector provides customers with a digital vehicle inspection loaded with helpful graphics, photos of the damaged parts, estimates, voice-to-text communications, and easy vehicle identification number (VIN) scan features.

This builds the perfect presentation to show customers why they need the work done. The Customer-Friendly Report makes it easy for customers to contact the shop, approve repairs and helps them understand why the service is needed. And there is no need for customers to download a separate application and no worries about whether they received and read the message.

In addition to these technologies, car manufacturers are also using apps to replace driver manuals by providing detailed information on any part scanned by their SmartPhone cameras. Beacons are new digital sale devices that send customers helpful information to their SmartPhones on new vehicles as they walk around them at the showroom.

Having all these tools together adds a professional touch that impresses users and guarantees return business.

Benefits of Integrating Mobile Platforms
Mobile platforms reduce workload by solving the time-management issues that shops face when trying to find repair information or when contacting customers to approve repairs.

Integrating mobile technology is cheap and pays off from the first day of use. The low price for the digital upgrade that keeps your shop busy, your customers happy, and your mechanics moving is almost nothing in comparison to the profit potential.

Customers will appreciate the time-saving reports and keep your contact details stored in their phones to solve future problems. Providing customers with photos and detailed reports removes the anxiety and saves them the hassle of driving through dense traffic to inspect the problem in person.

Mechanics using the technology complete more thorough inspections that list problems in detail. The paperless customer records save you the hassle of having to hire someone to digitize client records as they pile up.

Today is the day to put technology to work for you. Managing workflow is easier than ever. Replace business cards, customer records, service reports, and service stickers with virtual presentations.

Driveroo Inspection Brings True Car Price Transparency
Increasing Revenue on Your Everyday Automotive Repair Order