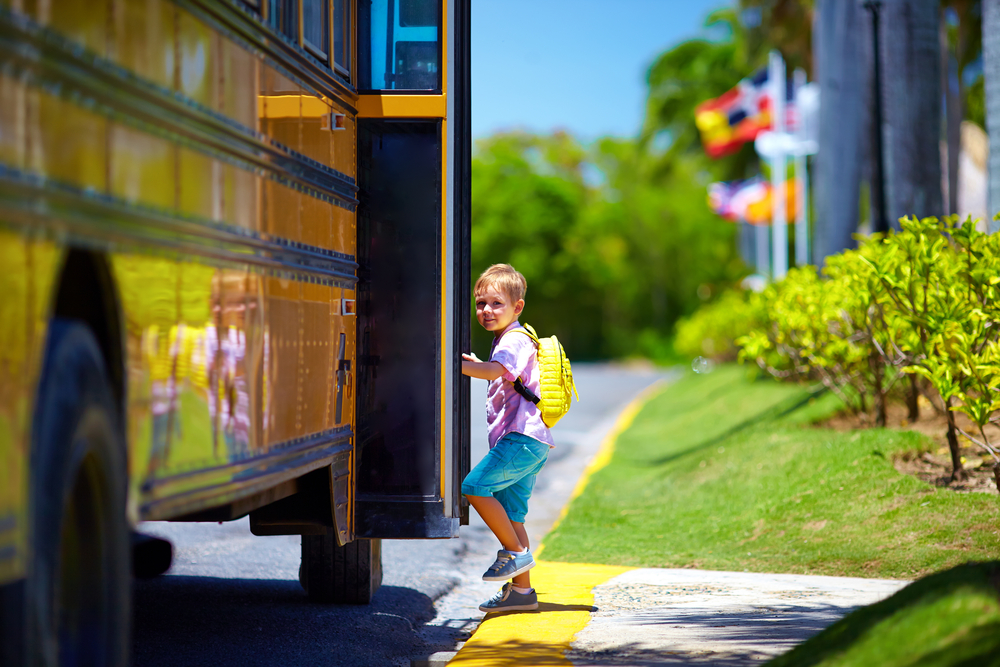 School Bus Technology Is Keeping Kids Safe
Technology is advancing at a rapid pace, and school bus technology is no exception. Over 50 percent of children enrolled in public K-12 schools are bused to school, which makes school bus safety a critically important topic.
Many schools and parents alike are seeking the aid of technology to make the regular journey to and from school safer and more predictable, so it shouldn't come as a surprise that the number of school bus technology innovations is growing larger every year.
Even though school buses are already one of the safest modes of transportation on the road, being approximately 70 percent safer than cars, there's still a lot of room for improvement. The following seven school bus technology innovations promise to lower the number of school bus accidents by applying cutting-edge technology to keep kids.
1. Electric School Buses
The traditional yellow bus runs on diesel power because diesel engines produce more torque, are very durable, and fairly cost-effective to operate. The problem is that diesel engines also emit greenhouse gases into the environment, exposing children and everyone else to dangerous pollutants, many of which are known to cause cancer, respiratory, and other problems.
Electric school buses promise to solve this problem and, at the same time, save money on fuel and operations costs. Some states have already replaced some polluting diesel school buses with all-electric buses, and more states are expected to join them in the near future. Further down the road, electric school buses could pave the way for autonomous driving.
2. Inspection Apps for Drivers
Fleet managers and school bus drivers should complete a pre-trip vehicle inspection on a daily basis to stay on top of various issues affecting bus safety and reliability. The typical pre-trip vehicle inspection includes:
Air lines
Battery
Brakes
Fluid leaks
Frame
Engine
Lights
Window glass
Traditional paper-based systems are time-consuming, inaccurate, create a lot of waste, and, what's worse, make it possible to skip the pre-trip vehicle inspection altogether, which may happen when time is scarce and either the fleet manager or the school bus driver is under pressure to get on the road as quickly as possible.
Inspection apps for drivers provide a more robust and efficient alternative to paper-based inspection sheets. Compatible with mobile devices, they interactively guide through the entire inspection process and minimize downtime while ensuring that the inspection is completed in its entirety. Inspection apps for drivers can be enhanced with telematics and other components of proactive maintenance.
3. Proactive Maintenance
Even with regular pre-trip inspections, school bus maintenance tends to happen in a reactive fashion, which means that faults and degradation are dealt with only when they become a problem and compromise the reliability of the vehicle. Proactive maintenance, made possible by the Internet of Things, is a maintenance philosophy that aims to anticipate failures and eliminate them before they develop.
Modern school buses are already packed with electronics capable of identifying problems related to the engine, lights, transmission, exhaust system, and other components. Proactive maintenance simply exposes this information and applies artificial intelligence and machine learning to identify the root causes of failures, extend the life of the vehicle, and reduce downtime.
4. School Bus Tracking
School bus tracking is another example of how modern technology can help make school buses safer and more convenient. Thanks to GPS, both schools and parents can pinpoint the exact location of a school and see how much time it will take for the bus to reach its destination.
According to surveys, the ability to track their children's bus and receive a notification when the bus is running late is appreciated by 60 percent of parents.
"GPS technology also provides speed reports, such as the posted speed vs. the actual bus speed. So, if bus drivers are speeding, transportation departments can now see who is speeding, where they were speeding, and by how much," says Gene Ballard, Smart Bus Program Manager at Kajeet.
5. Student Tracking (ID Cards)
Many school districts have already implemented smart ID card systems to increase the security of their students, and they're now using the same technology in school buses to give parents, drivers, and administrators peace of mind.
In practice, students often receive ID cards with microchips and support for either RFID or NFC communication (the same technologies used to verify the identity of the passport holder or for contactless payments). When students enter the bus, their presence is automatically recorded. When they exit the bus, the record is automatically updated, and a notification is sent to their parents. Some systems require students to swipe their cards, but all systems accomplish the same goal: make the journey safer.
6. Uber for Kids
With its driver reviews and background checks, Uber has revolutionized transit and made travel safer and more convenient. Some transportation companies, such as HopSkipDrive, are now providing Uber-like services to kids who live within walk zones or attend private schools, many of which don't provide school bus transportation.
Such services employ only fully-vetted, fingerprinted caregivers to ensure the utmost safety of every child. "With our 15-point certification process, we check (and double-check) every box. CareDrivers must have at least 5 years of caregiving experience, are fingerprinted, and go through FBI and DOJ background checks, as well as ongoing DMV checks," explains HopSkipDrive on its website.
Sometimes called Uber for kids by parents, these independent transportation solutions have become very popular among parents because of their flexibility and reliability, and it's likely that the demand for them will only continue to grow.
7. Digital Fleet Management
Forward-thinking schools are discovering the benefits of digital fleet management, which include complete visibility, improved efficiency and productivity, easy data sharing, remote vehicle diagnostics, integrated vehicle tracking, and comprehensive benchmarking to enhance performance and safety.
Driveroo School Bus Fleet Management Software modernizes school bus fleet management by making safety and compliance seamless and helping fleet managers maintain vehicles in the top-notch condition through an intuitive user interface. Parents whose kids use buses managed by Driveroo can rest assured, knowing all vehicles are properly inspected, remotely tracked, and expertly managed. That's how school bus technology is keeping kids safe.

5 Reporting Tips for Fleet Drivers and Managers
5 Ways to Boost Your Amazon Delivery Business